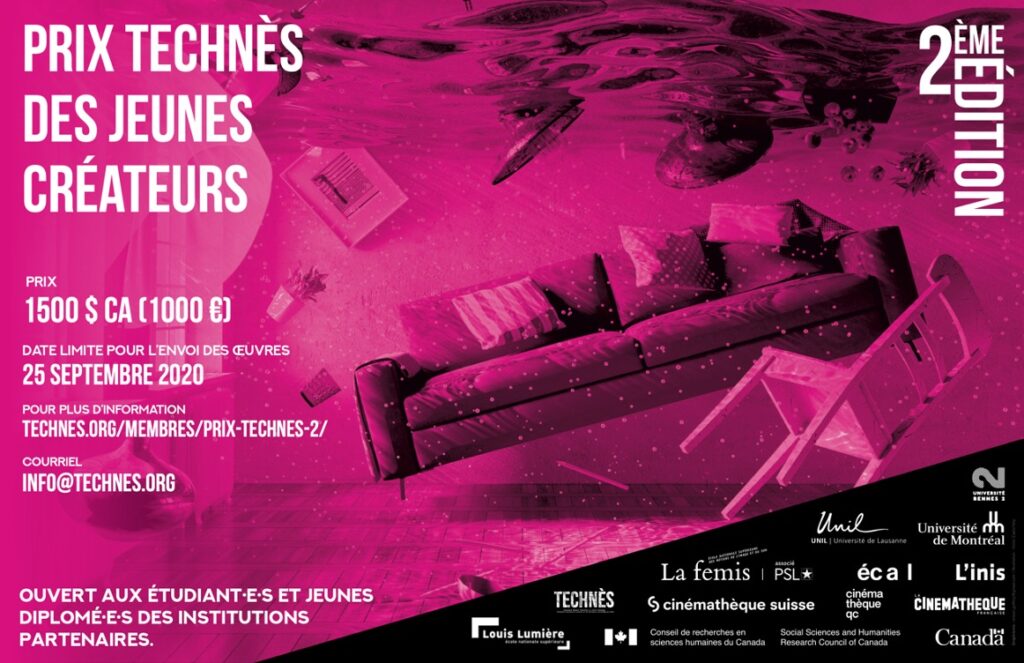 In the end the opposite of distraction is immersion in our thoughts and in the spaces in which we live. We have to succeed in diving deeply if we are to have any hope of getting out of the environmental, social and economic dead-end in which we find ourselves. . . . There is [also] a figurative sense of the word immersion: placing oneself in a different milieu than that to which one is accustomed in order to be influenced by it.
Nicolas Langelier, "La vie que nous souhaitons mener," Nouveau projet 17 (Spring and Summer 2020): 22.
In light of the success of the first competition for its "young creators award," the international partnership TECHNÈS is proud to announce the award's second edition. This year, the theme of the competition is immersion. Beyond the many definitions of this term in use, we propose to situate it in relation to the present-day context and to see immersion not only as a sensory experience, but also as a psychological, philosophical and social experience which opens up new ways of looking at the world.
Eligibility and ways of participating
The competition is open to any work (film, webfilm, installation, immersive/interactive works, audiovisual promenade, etc.) with a bold technique and which makes bold use of technology to create the sense of absorption associated with immersion. The work may take up the question of immersion explicitly (diegetic absorption, cognitive and affective ecology, etc.) or use an immersive technology in its creation, whether this technology is new or not.
The competition is open to all students of the three universities (Université de Montréal, Université Rennes 2 and Université de Lausanne) and four film schools (École cantonale d'art de Lausanne, École nationale supérieure des métiers de l'image et du son, École nationale supérieure Louis-Lumière and the Institut national de l'image et du son) which are part of the TECHNÈS partnership, as well as to graduates who completed their studies within the past two years, meaning since 2018. To participate all one need do is to send us, by 25 September 2020, a link providing access to the film or, in the case of installations or audiovisual promenades, to a complete dossier contextualising the work (in PDF format).
Description of the award
The creator(s) of the winning work will receive $1500 CAD (€1000). In addition, the work will be screened at partner film archives of TECHNÈS. Works submitted in competition will he shown during the online conference Immersivity and Technological Innovations, taking place from 16 to 20 October 2020.
The winning work will be selected in January 2021 by an international jury made up of members of TECHNÈS partner institutions.
For more information, write to us at info@technes.org.